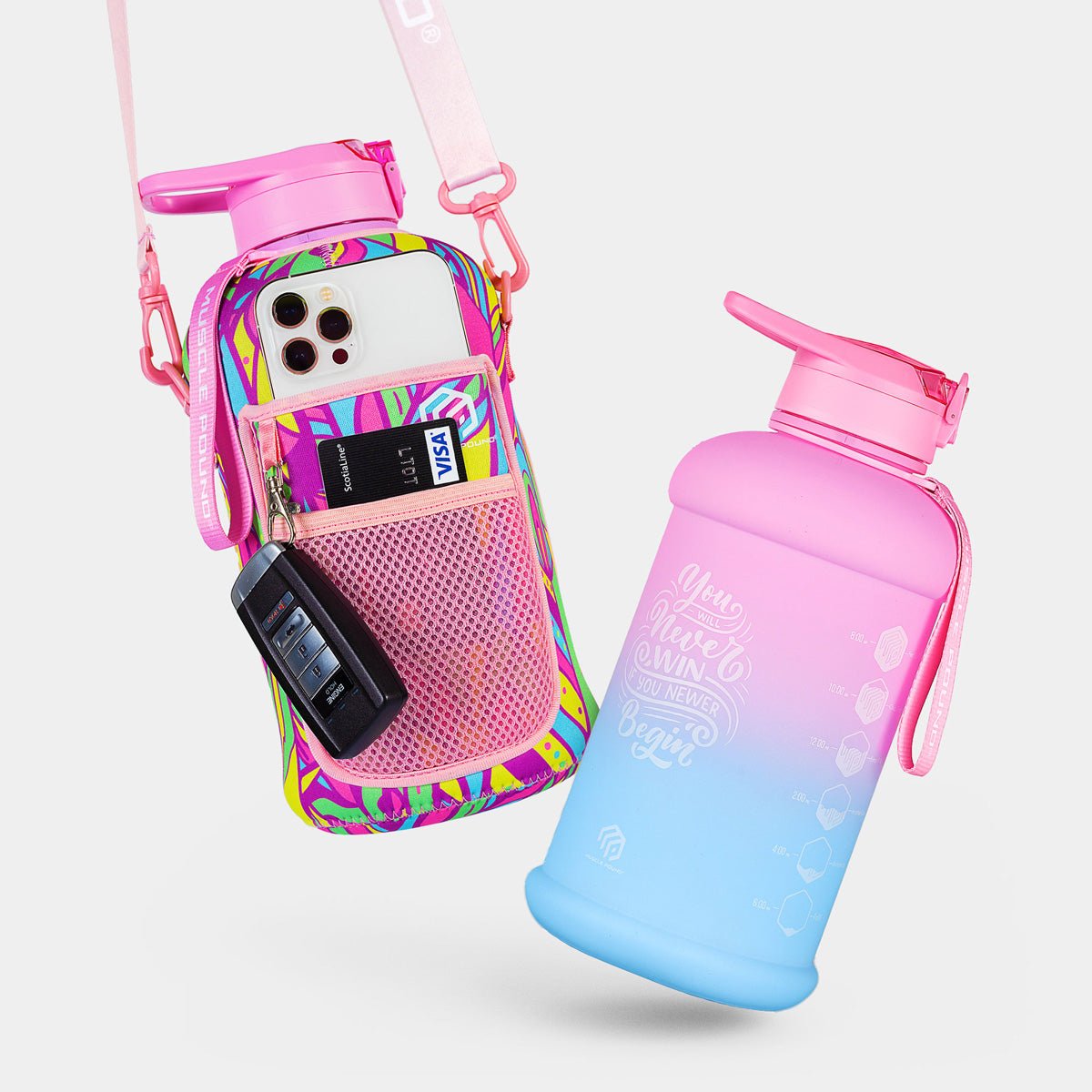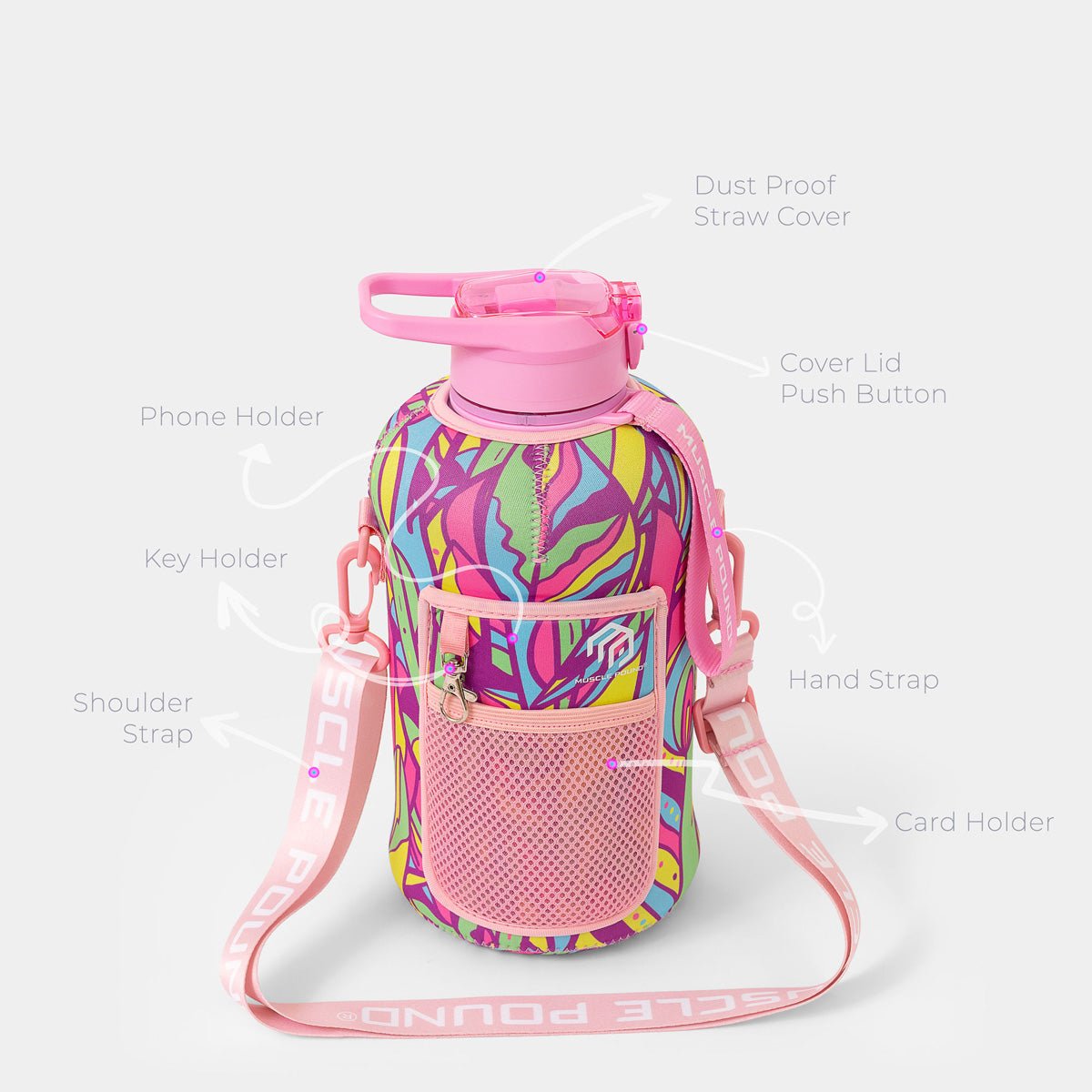 PRO JUG - FEATHER
Sale price
$34.00 USD
Regular price
$49.00 USD
(/)
---
BUY 2 GET 30% OFF Discount Code: HYDRATE30
---
Half-Gallon Water Bottle
Half-Gallon
Half-Gallon Water Bottle
Refreshingly Safe: BPA-Free Design
Experience the assurance of safety with our half-gallon water bottle, meticulously crafted from BPA-free plastic. Not only is it safe for you and your family, but it also offers exceptional durability. This robust bottle withstands the rigors of daily life, ensuring you stay hydrated whether you're hitting the gym, embarking on a hiking adventure, or simply commuting to work. Its quality construction guarantees longevity, making it your reliable hydration partner.
All-Day Hydration: Insulated for Excellence
This water bottle is more than just a container—it's your personal hydration companion. It features an insulated sleeve that maintains your drink's cool temperature for hours, ensuring you can quench your thirst anytime, anywhere. Whether you're a runner, a hiker, or a busy bee going about your day, this water bottle will be by your side, keeping you refreshed and ready to face whatever comes your way.
Hydro-Boost Your Goals: Motivational Time Marker
Our hydro-powered water jug is tailored to your fitness aspirations, all the way from the vast landscapes of Canada to global locations. This unique Canadian jug features a motivational time marker to inspire regular hydration, fostering weight loss, appetite regulation, and muscle growth. Whether you're into sports, frequenting the gym, pursuing fitness, exploring camping grounds, or traversing the globe, this 2.2L water jug is your perfect companion. It's more than a jug—it's a daily nudge from the heart of Canada to prioritize your health and well-being. Ideal as a gift for family and friends, this hydro jug serves as a reminder of the importance of water consumption for maintaining a healthy lifestyle.
Easy Use and Care: Wide Mouth & Simple Cleaning
The water bottle features a wide mouth design for easy filling and cleaning. You can conveniently add ice cubes or fruits to enhance your drink's flavor. It also comes with a detachable straw with a silicone tip for safe and easy drinking. For cleaning, all it requires is a gentle hand wash with warm soapy water and a soft sponge. A product designed in Canada, this water bottle represents a perfect blend of style, functionality, and ease-of-use.
Colorful Choices: Your Style, Your Bottle
This half-gallon water bottle isn't just practical—it's also a statement of your personal style. Available in six vibrant colors, you can choose the one that best matches your personality or mood. Whether you prefer a coral, a refreshing blue, a vibrant red, a cool green, a sunny yellow, or a pretty pink, there's a water bottle waiting to become your perfect hydration partner. water bottle with sleeve
Quench Your Thirst with the Biggest Water Bottle
Stay ahead in your hydration game with our half-gallon water jug. This sports water jug holds up to 75 oz of water, making it the biggest water bottle in our collection. No need to worry about constant refills, our jug ensures you have ample water to keep you hydrated throughout your fitness routine or outdoor adventure.

Unparalleled Convenience with Our Half-Gallon Bottle
How many bottles of water make a gallon? With our half-gallon jug, you're halfway there. This convenient half-gallon water jug saves you the trouble of carrying multiple bottles. With its sleek design and easy-to-use cap, it makes drinking water a breeze, whether you're at the gym or on a hiking trail.

Embrace a Healthier Lifestyle with Our Hydration Jug
Drinking a half-gallon of water a day has never been easier. Our hydration jug allows you to monitor your daily water intake, encouraging a healthier lifestyle. With its clear markings, you can easily track how much water you're consuming, ensuring you're on track to meet
PRO JUG - FEATHER
Sale price
$34.00 USD
Regular price
$49.00 USD
Choose options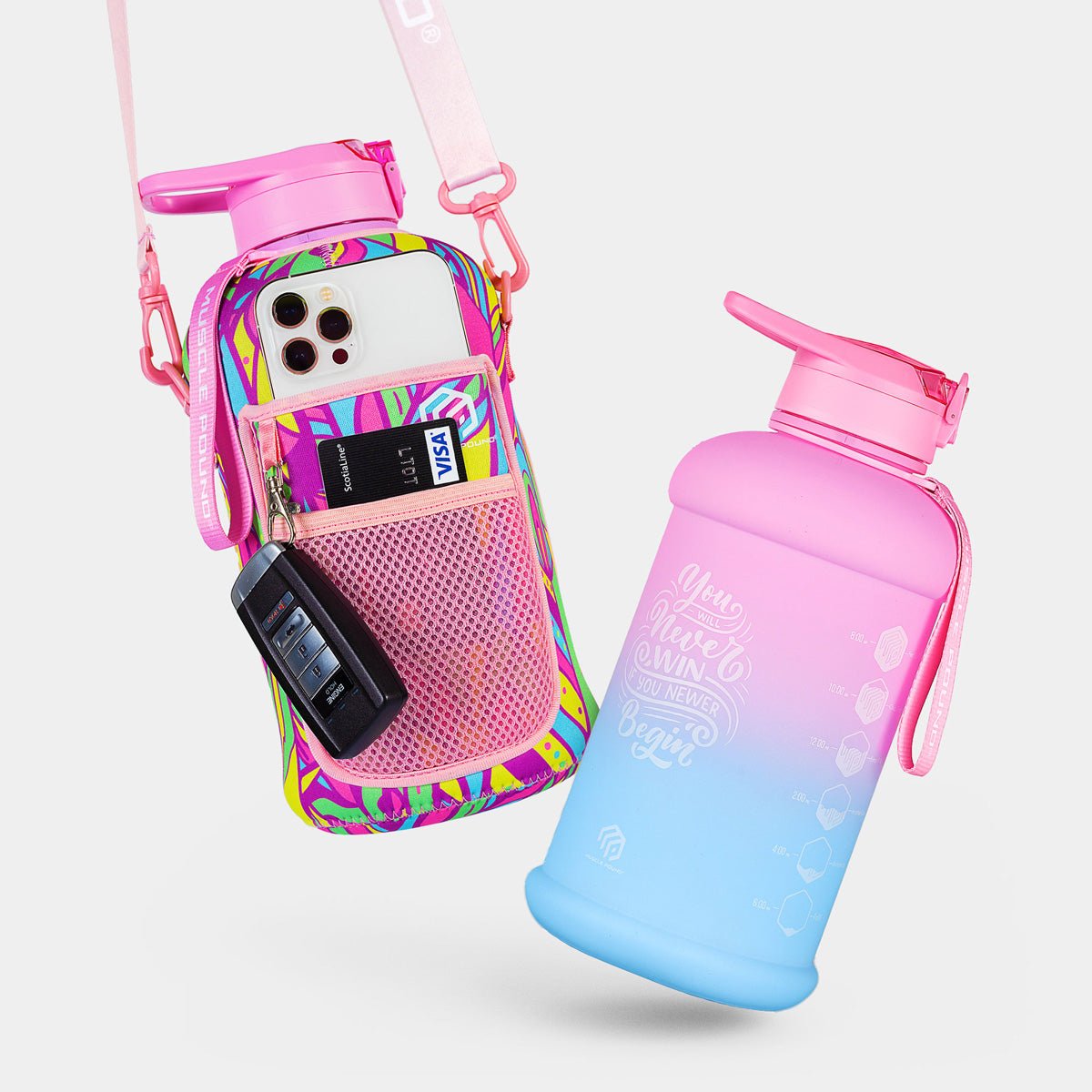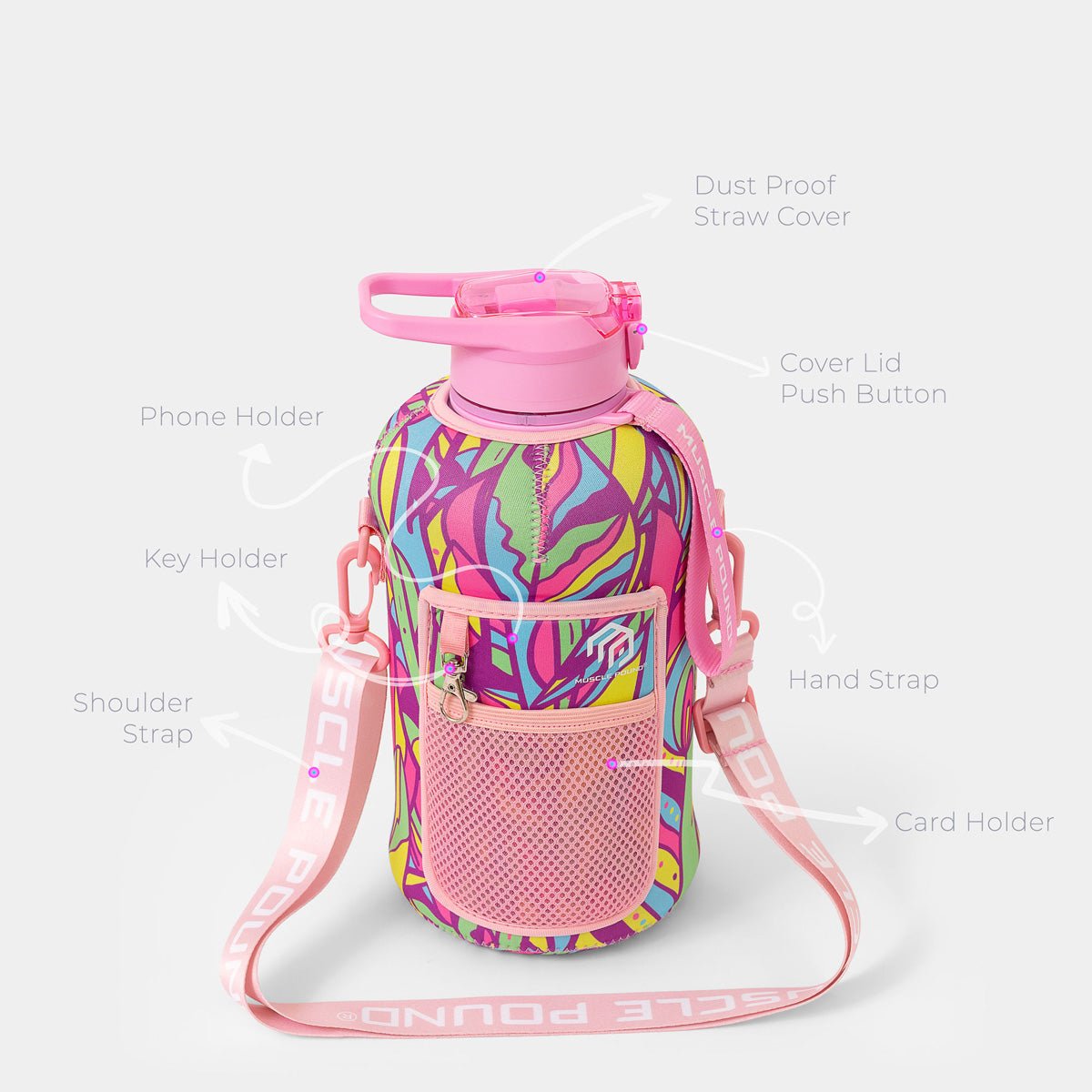 Sale price
$34.00 USD
Regular price
$49.00 USD
(/)
---
---
View details
Before/after
Showcase your product benefit by using before/after image comparison.
Worked great for a music featival!
I brought it to shambhala and it was so nice to carry it with the strap over my shoulder! I loved that it held so much water so I didn't have to refill very often. I also loved the pockets on the side! I was able to tuck my hand fan in the big pocket and I clipped my high-fidelity earplugs onto the little clip, so I had everything I needed. The only downside is that it is not machine washable. I also don't recommend putting anything besides water in it. But that should be obvious based on first glance. No leaks, and comes with 2 straw attachments. I would definitely recommend this to everyone!After the festival, I washed the removable outer covering and now I take it to work. Couldn't get all of the dust out of the fabric, but I dont really care. Still works great
Best water jug I've tried
I love this water jug! The convenience of having a strap, cell phone holder, card holder and key holder is just awesome! I would recommend getting a darker color if you plan to use it a lot. I purchased the violet sleeve and it did get dirty pretty quickly because I take it literally everywhere with me. My only "complaint" is that it whistles pretty obnoxiously when you drink from it, but it's not that big of a deal. I still highly recommend!
Drink up
Great design and have had so many compliments. I love that it has a place for your phone, keys and cards! Only wish they had a bigger straw but overall great product
Great and well made water bottle.
This water bottle holds a lot of potential! It is versatile for any activity you can think of. Whether it be hiking, gym work, or just trying to hit your daily water intake goals.
It's design is just as pretty as the pictures, which means no surprises when it gets into your hands. The colors are vibrant, the design is clear, and overall it's unique and well made.
I'd say it's a bit pricey, considering the bottle itself is really just a reusable plastic bottle, and it's not as easy to clean as you'd think as the sleeve is a bit of a hassle to squeeze off. After that's over with, you can throw it in the dishwasher but if you don't have the luxury, hand washing is a pain. That goes for the sleeve itself too (inconvenience wise).
With that being said, you're paying for a unique product that will be sure to get you double takes and compliments. It's never failed me, and I personally love the sleek design.
At the end of the day this water bottle is practical and pretty to look at too! It's made with high quality materials that will stand up to whatever journey you're on today, and can support your hydration necessities while making you look stylish.
Best 2.2L bottle out there.
I have tried maybe a dozen different brands and bottles almost identical to this one. I literally would pay for a bottle and then it would crack after 1-6 months of use. This bottle finally is different because the insulation will help prevent from a fall along with keeping the water cooler than without one. It isn't like a Yeti, but it looks nicer and is a perfect size. The biggest issue keeping me from 5 stars is that it really should be under $20. It's exactly the same as every other bottle you see on amazon which goes for around $12, but the insulation is the premium. Also, the 1 year warranty is worth it. Very good quality, if they wanted to sell more I would drop the price. Otherwise, you do get what you pay for.